Your attorneys specialized in
labour leasing
labour leasing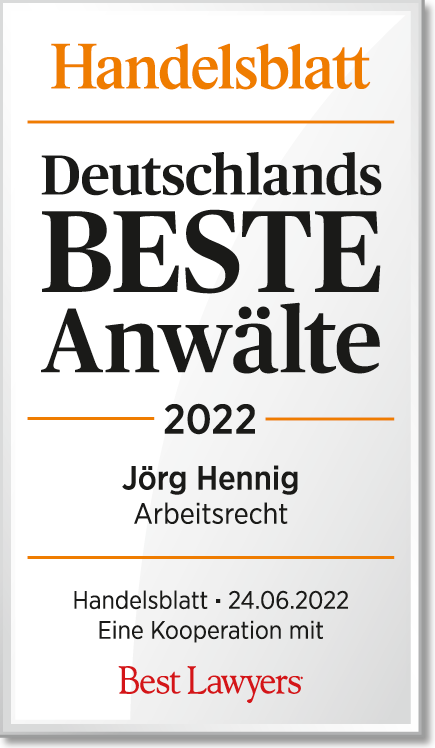 Labour leasing in Germany 
Labour leasing in Germany is subject to many legal regulations. Any company wishing to operate labour leasing in Germany must ensure at all times that employees receive the correct hourly wages from collective bargaining partners iGZ or BAP (links) or Equal Pay (payment of wages of comparable employees at the client). This means that labour leasing wages in Germany range from €10.45 for simple helper jobs to €22.79 for academic jobs (2020).
The Federal Employment Agency (Bundesagentur für Arbeit), which also issues the AÜG-license for Arbeitnehmerüberlassung, strictly monitors compliance with these regulations and does so annually for the first three years.
Despite this administrative burden, which may seem daunting at first, staff leasing in Germany is an indispensable tool when employees are to be deployed at the customer's premises rather than at the employer's own.
Who requires a license for Arbeitnehmerüberlassung (AÜG)?
In case you want to lease out your employees to clients companies in Germany, you will have to apply for a license for temporary employment services / staff leasing, as the license is a legal requirement, § 1 I 1 AÜG.
All national or international employers leasing out their employees to another company require a license to operate a temporary employment agency. Even if the company categorizes the work of its employees as payrolling or project work, temporary employment applies where the employee is paid by his employer yet works at a third-party location. A license is mandatory for all these services.
When is labour leasing not subject to authorization?
Labour leasing is not subject to authorization if, for example, it takes place in the same sector of the economy in order to avoid short-time work or to prevent employees from being laid off due to provisions in collective agreements. The same applies if an employer makes his employees available to a third party for up to a maximum of 12 months in order to prevent short-time work or layoffs (see also the information provided by the Federal Employment Agency or contact our lawyers). The prerequisite, however, is that the employer employs fewer than 50 workers and that these workers are neither hired nor employed for the purpose of temporary assignment.
An occasional transfer of employees between employers is also not subject to a permit, provided that the employees are not employed for the purpose of transferring them to third parties. This is the case, for example, if the employees are leased to another company in order to cushion a volatile peak in orders there. If the collective bargaining agreements under public law permit it, this also applies to secondments between persons under public law or to secondments made on the basis of a personnel secondment under a collective bargaining agreement of the public sector.
A transfer within the same group of companies is also possible without a license, provided – again – that the employees are not hired and employed explicitly for the purpose of the transfer.
The same also applies to secondments to a joint venture formed to produce a "work".
Labour leasing into the construction industry is prohibited! But there are exceptions…
In principle, it is not permitted to lease employees to companies in the construction industry for work that is usually performed by workers.
But: This does not apply if the transfer is between companies in the construction industry and other companies for which this is provided for in collective agreements that have been declared generally binding. Hiring between companies in the construction industry is also permitted if the hiring company has been covered by the same framework and social collective agreements or by their generally binding nature for at least 3 years.
In case you may need counselling concerning labour leasing we can help with our know how.