Your attorneys specialized in
labour leasing
labour leasing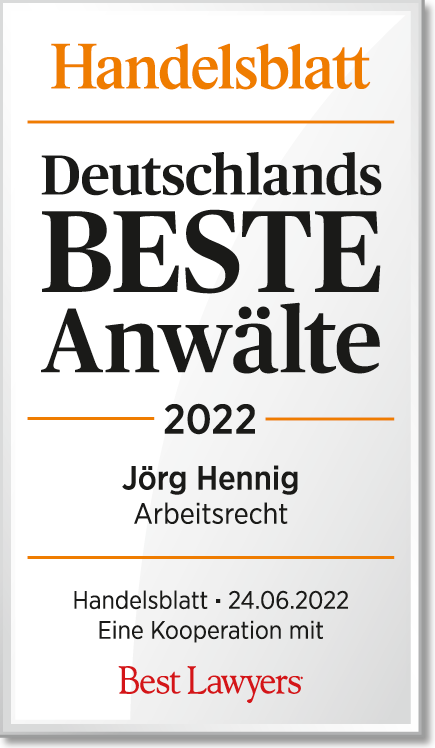 The leasing out of employees is regulated by the German Personnel Leasing Act (Arbeitnehmerüberlassungsgesetz, AÜG). A company (temporary employment agency, personnel service provider) "lends" employees to a company for staff leasing. 
The lender continues to be responsible for all labor law obligations such as remuneration, vacation, etc.. However, it must be ensured that the employee leasing is only temporary and that the maximum employee / staff leasing period of 18 months is not exceeded. The hirer, on the other hand, is jointly responsible for occupational health and safety and social integration. 
Section 8 (1) of the German Temporary Employment Act (AÜG) regulates the right to equal treatment, which states that employees who are leased out to third parties may not be treated worse than the permanent workforce in the customer's company. This applies first of all, of course, to wages and salaries ("equal pay"), but also to all other working conditions ("equal treatment") such as vacation entitlement, working time regulations or employee discounts. 
2. When is a AÜG-license required for the leasing of employees?
Employee leasing is subject to authorization in Germany. The license is issued by the Federal Employment Agency, initially for a limited period of one year. It can then be extended for a further year at a time, and after three years it can be granted for an unlimited period.  
It is not a matter of course that the Federal Employment Agency grants the license. All companies from Germany and other EU countries have a legal right to this, but only if a number of reliability criteria are met. Section 3 of the German Temporary Employment Act (AÜG) stipulates that the license must be refused or may not be issued if facts justify the assumption that the applicant: 
does not possess the reliability required for the performance of the activity, in particular because he does not comply with the provisions of social security law on the withholding and payment of wage tax, on employment agency services, on recruitment abroad or on employment of foreigners, on the maximum duration of temporary employment pursuant to Section 1 (1b), the provisions of occupational health and safety law or the obligations under labor law;

 

is not in a position to properly fulfill the usual employer obligations due to the design of his company organization;

 

does not grant the temporary worker the working conditions to which he is entitled pursuant to Section 8, including remuneration.

 
In addition, the application procedure is very complicated and requires the provision of extensive documentation. All this means that applications are often rejected. We therefore ensure, within the scope of our possibilities and expertise, that the application process runs smoothly. 
3. "Not" employee leasing
Not every third party personnel assignment is an employee leasing that requires a license. Contracts for work and services or assignments of freelancers are always possible and do not require a license. The distinction is based – in short – on instructions and integration. If an employee is subordinated to the instructions of a third party, it is employee leasing. In the case of independent order processing, e.g. by a construction company, consultants or IT staff, permission is often not required because it is a contract for services or work. However, the transitions here are very fluid, which means that many companies that are not actually temporary employment agencies require a permit for some assignments. 
Here, too, we clarify with you under which circumstances a license-free personnel assignment is possible at all and which requirements must be met for this. The barriers are high and a precise examination of the individual case is crucial. 
4. When is a license-free assignment possible?
Even if there is an employee leasing, in a few cases a leasing license is not required. These include the avoidance of layoffs or short-time work, as was the case in many companies due to corona, among other things. The most common case in practice is "group leasing". If employees are leased from one group company to another company within that group, no license is required for this. 
5. AÜG / staff leasing prohibitions
Finally, there are a number of so-called "sectoral prohibitions" on employee leasing. In other words, hiring out to certain sectors is not permitted. This applies, for example, to the meat-processing industry, and is repeatedly demanded for the care sector. 
The main case is that hiring out employees to the construction industry is prohibited. However, it is difficult to answer the question of what is actually meant by "construction industry"? Building construction and civil engineering certainly are; but plant construction, painting and electrician work are not. The construction of photovoltaic systems is also not subject to the construction ban, as the BAG only decided in 2022 (BAG v. 27.04.2022 – 10 AZR 263/19). 
Transfer within the construction industry is also not prohibited. 
The Federal Employment Agency examines violations of these provisions very thoroughly and enforces bans. On the other hand, there are often legal structuring options to achieve corresponding goals anyway. 
We advise companies on the specific cases in which employee leasing is prohibited and when investigations or fine proceedings are possible.